Project Manager
Ogłoszenie numer: 7070496, from 2022-06-10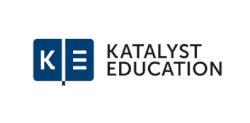 At Katalyst Education, we want an education environment which gives all students an equal chance to discover and develop their abilities and capabilities, to make their dreams come true, and to prepare for challenges emerging in the ever-changing world. As such, the foundation's mission thus far has been to level the playing field for all Polish students by creating free-of-charge, digital, open-source and high-quality educational tools and by supplying services supporting their optimal use.
Katalyst Education has been achieving its mission by shepherding two active and highly successful projects: Pi-stacja (pistacja.tv) and Career Map (mapakarier.org). Both are open, free-of-charge, digital educational resources supplemented with additional materials for teachers, parents and students.
Career Map is one of the most widely used digital tools to support career guidance counselors in primary and secondary education in Poland. Over 500,000 users visited Career Map during 2021, and the application's users have logged nearly 10 million page views just in the past 12 months.
Pi-stacja is an ever-growing set of online (and downloadable) 6- to 15-minute video tutorials which are precisely aligned with the Polish national educational curriculum. The collection of free tutorials currently comprises more than 1,000 videos and exercise sets, covering curriculum points in mathematics, chemistry, physics, and biology. Lessons for twelve other school subjects are planned over the next few years. Pi-stacja has become the number one free video lesson resource in Poland, with more than 37 million cumulative views of its tutorials (providing the equivalent of more than 83 million PLN (approximately $20 million) in free tutoring services for Polish students).
The quest for a level playing field is even more relevant in a wartime environment where refugee children are deprived of normal, unfettered access to teachers and content. Nearly 3 million Ukrainian refugees have fled to Poland. Among them are more than 1.1 million children. UNICEF estimates that each second another child is uprooted from Ukraine.
For this reason, Katalyst Education has committed to using Pi-stacja to support the children of Ukraine as well. Initial support is being focused on converting all existing Pi-stacja materials into Ukrainian. Ukrainian subtitles are already being added to the video lessons; other materials (lesson plans, exercises, etc.) are being translated in order to have dual-language versions. Shortly, the organization will begin creating original Ukrainian content for the full portfolio of core subjects in Ukrainian schools.
Project Manager
Location: Warszawa
Job description
As a project manager of new Katalyst Education project you will be responsible for:
Organizational supervision over the timely creation of resources in the newly established "Pi-stacja Ukraine" program
Developing program's strategy (in cooperation with the Katalyst Education team) and timeline of its implementation
Creating procedures and processes that will optimize the resources' production process
Monitoring the use of Pi-stacja in Ukraine as well as in refugee communities, data collection and visualization during the program implementation
Establishing and maintaining partnerships
Ongoing communication with financial partners
Cooperation with all stakeholders in the project
Reporting on the progress of the program
Requirements
Join us if you have:
Experience in running projects: preferably related to video production or production of other educational materials
Fluency in Ukrainian and English (or Polish).
Readiness to learn
Problem-solving mindset and focus on closing projects
Good organizing skills and stress resilience
Work experience in agile methodics (Scrum, Kanban, Lean) more than welcome
Experience in scaling projects
Knowledge about the education system in Ukraine
Experience in implementing educational projects
We offer
What we offer: 
Cooperation with a modern, agile team that will be happy to share any previous experience in project implementation
Very high independence in everyday work
The possibility of creating a very large educational project from scratch on the basis of the Polish version of the Pi-stacja
Work in a modern, new office in Warsaw
A stable full-time employment contract
All the emotions associated with the production of an innovative product from scratch :)
Please add the following clause: I agree to the processing of my personal data for the needs necessary in the recruitment process.
APLIKUJ TERAZ
Zobacz podobne oferty
Dodano: 2022-06-27
LOT Aircraft Maintenance Services Sp. z o.o.
Lokalizacja: mazowieckie / Warszawa
Wymagania: Minimum 3-letnie doświadczenie w samodzielnym prowadzeniu projektów w środowisku biznesowym Doświadczenie w strategicznych, kompleksowych projektach biznesowych Praktyczna znajomość...
Dodano: 2022-06-20
Leroy Merlin Polska Sp. z o.o.
Lokalizacja: mazowieckie / Warszawa
Jeżeli: Posiadasz doświadczenie zawodowe min. 2 lata w obszarze Zarządzania Projektami na stanowiskach Kierownika/Koordynatora Projektów Znasz Metodyki Zarządzania Projektami i Portfelami...
Dodano: 2022-06-10
Lokalizacja: mazowieckie / Warszawa
O nas Jesteśmy zorganizowani – prowadzimy Fundację, która wspiera dzieci w młodzież w nauce matematyki i gramy razem z WOŚP! Tworzymy know how – w 2020 przeprowadziliśmy 150 warsztatów i...
© 2020

PRACA W MAZOWIECKIM – Wszelkie prawa zastrzeżone